North-West Overview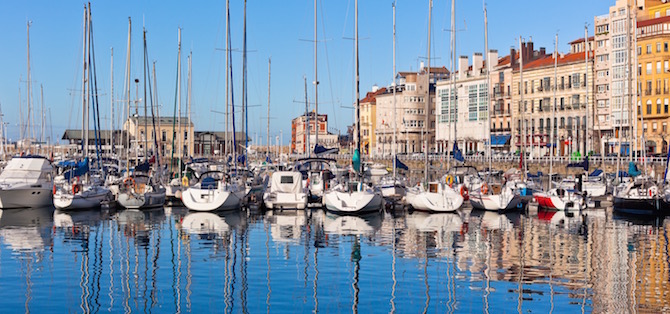 The North-West encompasses Galicia, the famous city, Santiago de Compostela, Cantabria and Asturias.
Galicia has some of the best seafood you will find in Spain. Its coastline is shaped by fjord-like rias. Little known Galicia has charming towns like Lugo, Ribadavia and Celanova. Corunna (La Coruna in Castilian, A Coruna in Gallego) is the capital of Galicia. It is famous for its fabulous waterfront promenade.
Perhaps best known in this region is the capital of Santiago de Compostela which was the 'mecca' for pilgrims in medieval Europe as it lies at the end of the famous pilgrims' route. Thousands of pilgrims and tourists flock to pay homage to St James' bones housed in the magnificent cathedral on Plaza de Obradoiro.
The Camino de Santiago has become increasingly popular with all tourists - religious and just curious in recent years. You don't have to do the entire camino starting in France. Around The Sun can organise segments where we porter your luggage as you walk.
Asturias is more rugged than Galicia on the whole. Think of Asturias as the Spanish version of Wales with its high rainfall and lush greenery. This region has profited from mineral exploitation. The long sandy beaches of Santander change to deep-cut estuaries in Asturias and Galicia. The Picos De Europa is a small mountainous region bordering Cantabria, Asturias and Castile-Leon and is considered to offer some of the best trekking in Spain. The Picos are only 25km from the coast and are only around 40km long and 40km wide.
Talk to us if you are interested in doing a serious trek and we'll help design a specific itinerary in line with your abilities and interests.
The Picos offer some of the world's best hiking terrain and encloses parts of the other region in this quartet – Cantabria. Oviedo is the jewel in the crown because of the wealth of Visigothic and early Romanesque churches which survived the conquest of the Moors. Santander and San Vicente are often the launching points for treks and hikes round the stunning Picos de Europa. Santander is an elegant summer resort town which has long been a popular cooler escape for Madrilenos.
If you have any queries, or want to bounce around some ideas, please contact us!
Spain Journeys & Suggested Itineraries
Barcelona to Santiago De Compostela
This tour provides an overview of four stunning regions in Spain's north - Catalunya (Catalonia); Euskadi, which is the name the Basque people give to their own land; Asturias, which begins in Unquera; and Galicia and the Atlantic Coast.
Days:
12
Luxury:
medium to high
Type of Tour:
Small Group Guided Tour
Experience:
Culture by car
Challenge:
Easy to Moderate
Cost:
from $4,995
more