Pony Trekking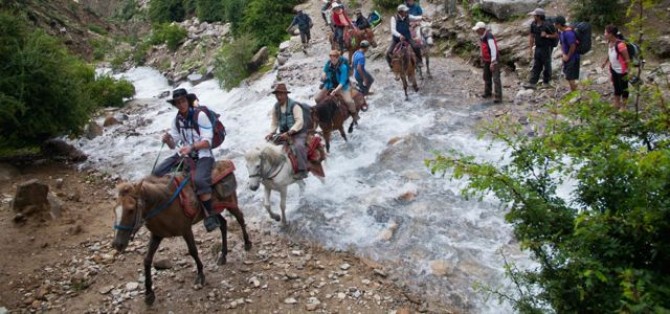 The best way to explore the remote region of Mustang - part of Nepal, but geographically and culturally part of Tibet - is on an Around The Sun pony trek. Although motorbikes and trucks are now making their way into this relatively untouched Shangri La, ponies are still the preferred method of transport for the locals.
The ponies are a treasured part of traditional culture. They are calm, sure-footed, beautifully trained and easy to ride. You do not need any horse-riding experience and, of course, you can walk whenever you prefer.
Standard walking treks into Mustang are offered, but the ponies offer unique advantages. The terrain, particularly on the ankle-twisting stones of the Kali Gandaki Gorge, makes walking very difficult. If you're walking, you have no option but to concentrate on where your feet are going. Which means you miss out on the view!
Obviously the ponies also cross the many streams that run across the trail - and you don't have to get your feet wet. And climbing some of the high ridges (up to 11,000 feet) is a much happier experience on the back of a pony. Lastly, by using ponies we are making an additional contribution to the region's economy and helping to keep an important tradition alive.
You will find Around The Sun's Mustang pony treks reasonably demanding, but they are well within the capabilities ?of anyone with a basic level of fitness. All you have to be able to do is carry a day pack, ride ?a pony uphill and to walk downhill. The crew ?does the rest.
The Mustang pony treks are camping treks, but they are very different to any camping trip undertaken in the west. You will sleep in a tent, but there will be ?a sirdar (trek leader), a number of sherpas (assistants), cooks and a kitchen crew to look after you. The crew will pitch tents, set up camp, cook and serve all your meals. Mules will carry ?all the baggage.
The sherpas organise all the tents. We use large three-man tents that normally accommodate two people. Each tent is supplied with a foam mattress for each person.
Three excellent meals per day are cooked for you (rigid sanitary rules are observed in food preparation). Somehow the cooks manage to create a variety of delicious western and Nepali dishes.
During the day all you carry is a daypack with a water bottle, camera, jacket and any other personal items you might need. The rest of your gear goes into a duffle bag that the mules carry.
Pony Trekking
Mustang & Tibetans
Mustang is a largely unchanged Tibetan/Nepali kingdom lying at the northern end of the world's deepest valley. The valley has, for thousands of years, been a link between Tibet (and China) and Nepal (and India). You'll meet Tibetan farmers, monks, refugees, nomads - and maybe even the King.
Days:
21
Luxury:
Pony / Trek / Camp
Type of Tour:
Small Group Guided Tour
Experience:
Pony Trek
Challenge:
Medium
Cost:
from $7000
more