Himalayas Overview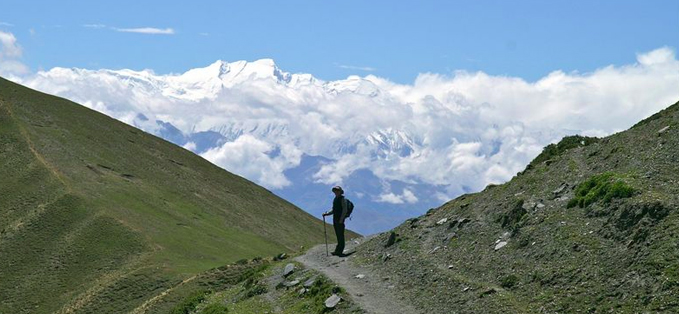 The Himalayan mountain range is an enormous spine between China and India. The range includes nine of the 10 highest mountains in the world and over 1000 mountains exceeding 7200 metres. These extraordinary mountains create the world's most spectacular scenery. End of story.
The climate ranges from tropical on the Indian plains at the base of the mountains, to permanent snow and ice from around 5500 metres (18,000 feet), with everything imaginable in between. In less than 100 km as the eagle flies, you can go from an environment with intensive paddy rice farming and national parks that are home to tigers and rhinoceroses, to an environment that is home to nomadic Tibetans, blue sheep and snow leopards.
The Himalayas crosses or run alongside five countries: Bhutan, India, Nepal, China and Pakistan, but the mountains primarily lie within Bhutan, India and Nepal, and these are the countries where Around The Sun runs trips.
The mountain scenery is an awe-inspiring backdrop to some of the world's most sophisticated and interesting cultures and people – from Hindu kingdoms and pilgrimages, to the Buddhist cultures of the Tibetans, Ladakhis and Bhutanese with their thriving monasteries…
The Himalayan peoples have developed their cultures along a cultural faultline – between India and China – that is as impressive as the mountains themselves. Most cultures are, at least to some degree, the fascinating product of both.
Huge rivers run from the mountains down to the Indian, Pakistani and Chinese plains. All together their combined drainage basin is home to over 600 million people. The mountains – with a few notable exceptions – remain pristine. But they have profoundly shaped the cultures of Asia.
Around The Sun has published a number of small group, guided tours to Nepal, India and Bhutan. You're welcome to join one of these groups, or to use these itineraries as starting points for developing your own tailormade trip.
If you are interested in a private, custom trip to any part of Nepal, Ladakh, Arunachal Pradesh, or Bhutan, contact us now.
Or start with the questionnaire on this website: Create Your Journey
Himalayan Journeys & Suggested Itineraries
Bhutan Adventure
Remarkable Bhutan is a completely unspoiled Himalayan kingdom. The Bhutan Adventure is a perfect introduction to Bhutan for reasonably fit and active people. It combines road touring, a two-night trek, and some rafting. There's a small group set departure in late 2015, but private groups (with comfortable and luxury options) can be run all year.
Days:
13
Luxury:
Comfortable / Trek / Camp
Type of Tour:
Small Group Guided Tour
Experience:
Car Touring / Trek / Raft
Challenge:
Medium
Cost:
from AUD$6399
more
Mustang & Tibetans
Mustang is a largely unchanged Tibetan/Nepali kingdom lying at the northern end of the world's deepest valley. The valley has, for thousands of years, been a link between Tibet (and China) and Nepal (and India). You'll meet Tibetan farmers, monks, refugees, nomads - and maybe even the King.
Days:
21
Luxury:
Pony / Trek / Camp
Type of Tour:
Small Group Guided Tour
Experience:
Pony Trek
Challenge:
Medium
Cost:
from $7000
more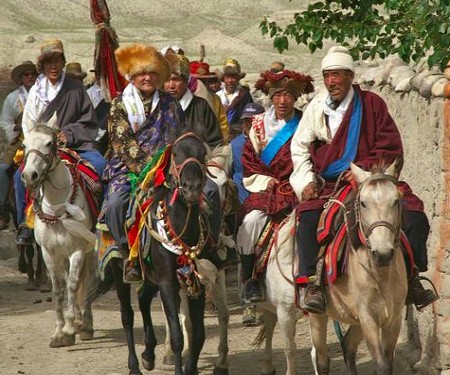 Bhutan Introduction
This is the perfect way to discover Bhutan. It's a road-touring overview of all the most important sights. Most days involve at least one easy walk - to get you off the road, into the countryside and villages, meeting locals. There's always time to stop at markets or something interesting like an archery contest. Private groups can be run all year, and there are 'comfortable' and 'luxury' options.
Days:
9 days
Luxury:
comfortable / luxury
Type of Tour:
Private Guided Tour
Experience:
Car Touring / Walks / Culture / Nature
Challenge:
Easy
Cost:
from AUD$3999
more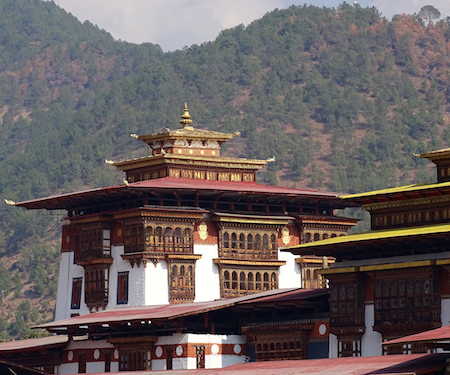 Jhomolhari Base Camp Trek
The Jhomolhari Trek is the most iconic trek in Bhutan. It's not easy, but the rewards are immense. There are fabulous views of one of the Himalaya's most spectacular peaks. And you experience amazing forests, including oaks, rhododendrons, birch, fir, pine, daphne, maple and larch. Blue sheep, and even snow leopards, live in the region and are sometimes spotted.
Days:
12
Luxury:
comfortable / luxury
Type of Tour:
trek
Experience:
trek
Challenge:
moderate / difficult
Cost:
from AUD$5299
more