Why Choose Around The Sun?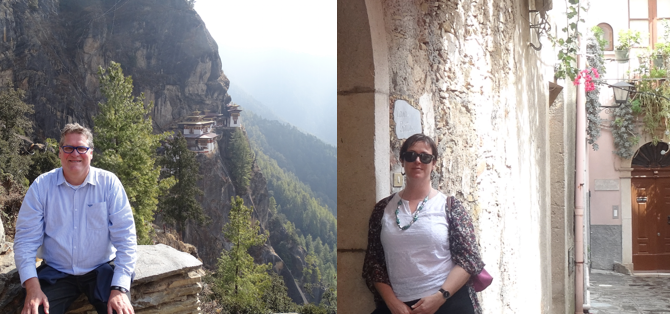 When you select an Around The Sun trip you are choosing the expertise and knowledge of Richard Everist and Lucrezia Migliore and the services of a select group of Richard's and Lucrezia's trusted friends and colleagues, some of the most outstanding operators in the world.
We create comfortable adventures and extraordinary holiday experiences that connect you with local people.
Rather than offering trips to every country, we have chosen to operate in countries or regions we know really well - because we have lived or travelled extensively in them. We know a few parts of the world, and we know them well.
Based on relationships forged through decades of working for Lonely Planet and Peregrine Adventures, and years spent living in various countries around the world, Richard and Lucrezia have joined forces with a small number of friends who operate the best tour companies in the world. These are the people who have really detailed knowledge.
One of the main reasons the tour companies Around The Sun uses are the best in the world is because the guides they employ are interesting, knowledgeable, energetic locals and perfect travel companions. These guides will not only make your trip as smooth and relaxing as possible, but they'll interpret and explain the culture you are visiting, take you off the beaten track, and introduce you to interesting local people.
Around The Sun guides are fun to travel with – and, importantly, they will respect your wishes, and your personal space. It's your holiday, so if you want privacy, you get it. If you want company, the guides will be delighted to join you. If you're tired of sightseeing and just want to spend a day looking at the view, sipping a drink and reading a book, that's your choice too!
Around The Sun and its chosen tour companies have put together outstanding itineraries that will provide you with some of the most memorable experiences of your life.
We call our trips comfortable adventures – because we take all the stress out of travel and we know the best places to stay and eat in every town we visit. We – and our guides - do all the hard work. All you have to do is enjoy yourself!
We think travelling with a guide is one of the greatest luxuries and privileges a traveller can enjoy, but we also know that travelling independently - with all its challenges - can be great fun. A self-guided tour where Around The Sun manages the bookings and provides you with background information and introductions is sometimes an ideal compromise. And our operators are still on-hand if you need them in an emergency.
At Around The Sun we do not believe the best places to stay and eat will necessarily be five star! For a start, five star options just don't exist at some of our destinations. But even where they do, there are often more interesting, personal and unique alternatives. That's where you'll find Around The Sun.
Around The Sun might not have a fetish for five stars, but it does not run budget trips. Our trips are, without question, top quality. We have not set out to compete on price, but we have set out to compete ferociously on quality and uniqueness. We do not do discomfort - unless discomfort is entirely unavoidable and if it is worth suffering for some sort of amazing payoff. And when we talk about small groups – we mean small. The largest group size is 10, and most groups are smaller.
Around The Sun's key point of differentiation is that we give travellers opportunities to connect with local people. Not only do we want to give you the best holiday you have ever had, we want to give you an experience that will change your life.
Over recent times, the travel industry has undergone massive change. Most well-known Australian, English and European travel companies have been bought by large multi-national companies. By contrast, Around The Sun is a family-owned, Australian company.
The big multi-nationals, which are driven solely by the imperative to deliver profits, have no ongoing interest in working with the small, unacknowledged, local tour operators that often helped build their businesses. They want more control and more profit - so they're creating their own on-ground tour operators.
Around The Sun has a different perspective. We're proud to work with the privately-owned, independent, local tour operators. They happen to be our friends – but they are also the most experienced, most knowledgeable and best organised operators in the world.
You can download, print and share our introductory brochure here!