Madrid & Toledo Overview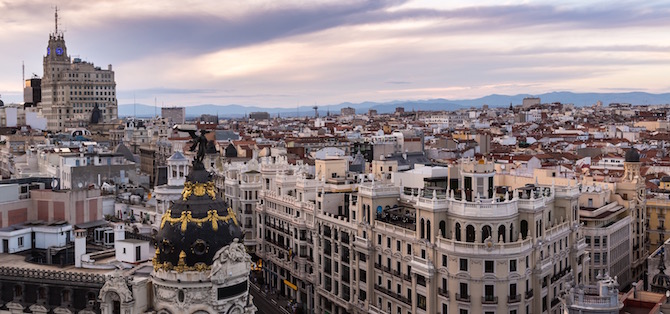 Madrid is one of the great cities of the world
In the 1560s Philip II moved the seat of government to Madrid to create a symbol of unification and centralisation of the country. It is far from the grandest of world capitals but has the amazing energy of a large metropolis unique unto itself. Madrid is included in all our Spain tours.
The decision which Philllip II took to choose Madrid as the capital helped preserve the museum-city of Toledo (capital of Castille La Mancha). Toledo is only 70 kms south of Madrid. It is a must see as it was capital of medieval Spain until 1560 and the entire town is practically a museum of art and architecture. All of the civilisations which contributed to the grandeur of Toledo are on show for today's visitor. The Mudejar style which combined structural and decorative elements of Visigothic and Muslim art is in evidence here as the three major religions of Christianity, Islam and Judaism which were allowed to prosper in harmony. Two millennia of history live within the walls of this remarkable city. Toledo is often included by large companies as a day tour. Around The Sun believes that Toledo and the wider region of Don Quijote country - Castille La Mancha deserve at least a 3 day tour. If you only have time to come for a day tour - get up early to make the most of your day. There's a lot to see! The historic city of Toledo is a UNESCO world heritage site.
If you have any queries, or want to bounce around some ideas, please contact us!
Spain Journeys & Suggested Itineraries
Barcelona to Santiago De Compostela
This tour provides an overview of four stunning regions in Spain's north - Catalunya (Catalonia); Euskadi, which is the name the Basque people give to their own land; Asturias, which begins in Unquera; and Galicia and the Atlantic Coast.
Days:
12
Luxury:
medium to high
Type of Tour:
Small Group Guided Tour
Experience:
Culture by car
Challenge:
Easy to Moderate
Cost:
from $4,995
more