Richard Everist & Lucrezia Migliore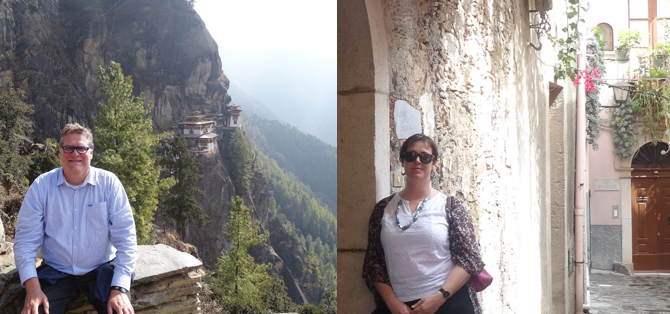 When you choose Around The Sun you are choosing to utilise the expertise and knowledge of Richard Everist and Lucrezia Migliore and the expertise and services of a select group of Richard's and Lucrezia's trusted friends and colleagues.
In 2011 Richard and Lucrezia began organising trips to their favourite corners of the world under the Around The Sun banner.
Richard Everist
Richard Everist is an expert in travel to the Himalayas, India, South-East Asia, South Africa, Britain and Australia - regions about which he has written guidebooks and numerous travel articles.
Richard started work with Lonely Planet as an editor in 1985 when there were 12 people in the company. He left in 2000 when there were over 500. Richard began his Lonely Planet career as Marketing Manager then worked as an author/photographer, and for the last five years he was the Global Publisher.
Richard co-authored guidebooks to Nepal, South Africa, Papua New Guinea, Pakistan, Iran, Turkey, Malta and Britain. As Global Publisher he was responsible for all Lonely Planet books and the establishment of Lonely Planet's photo library, Lonely Planet Images.
Since leaving Lonely Planet Richard has been involved with a variety of internet and print publishing projects, many of them involving travel, and he was the CEO for Peregrine Adventures, an adventure travel company. During this time he was interviewed for a George Negus programme on the ABC. Richard left Peregrine at the end of 2003. A transcript of the ABC interview follows: https://link.mummify.it/7JgbWjev
In 2004 Richard, Lucrezia Migliore, and three children – escaped from Melbourne – and started Best Shot! Publications.
Best Shot! has published the definitive guidebooks to the Victorian goldfields – 'The Traveller's Guide to the Goldfields' and the Great Ocean Road region - 'The Complete Guide to the Great Ocean Road'.
Lucrezia Migliore
Lucrezia Migliore is an expert in travel to Italy, Spain, Portugal, Morocco, Britain and Australia, countries where she has either lived or travelled widely.
Lucrezia is a citizen of the world. Born in Melbourne to Italian parents, Lucrezia has lived and worked in Australia, taught in the United Kingdom and Spain and lived in Italy – as well as travelling widely through Europe and North Africa.
Lucrezia speaks English, Italian and Spanish – and gets by in French and German. Her career has encompassed language teaching, hospitality, industry training, sales and marketing, and counselling. She manages all aspects of sales, marketing and distribution for Best Shot! Publications, which she co-founded with Richard Everist.
In 2009 Lucrezia, Richard Everist and two of their children spent six months living in Pisciotta, on the Cilento Coast south of Naples. On that occasion, and on subsequent trips, Lucrezia rekindled her connections with Italy and Spain.
You can download, print and share our introductory brochure here!