Bhutan Overview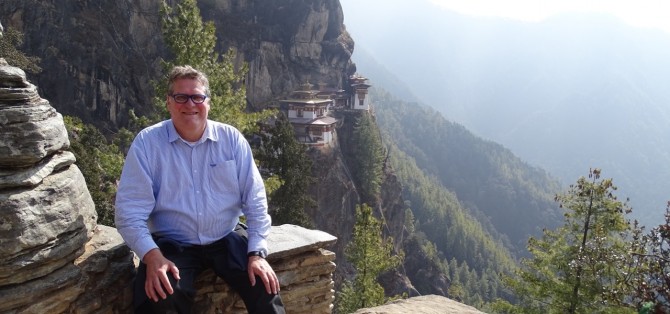 Bhutan is absolutely remarkable.
The countryside is remarkable. It is remarkable from its highest point at 7553 metres, to its lowest point at 97 metres - from the world's highest unclimbed peak bordering Tibet to tropical jungles on the border with India. In between, there's every imaginable ecological zone, including forests of rhododendrons and daphne.
The culture is remarkable. It is a Buddhist country, similar in some ways to Tibet, with a stunning architectural heritage. Most people still wear traditional dress - in fact in some circumstances it is compulsory. New buildings have to be created in traditional style and advertising is limited to small plaques on buildings. Plastic bags are banned. Remarkably, the concrete canyons, advertising hoardings and non-biodegradable trash ubiquitous throughout Asia are nowhere to be seen.
Bhutan is still unspoilt. The towns are still small and beautiful. The countryside is beautiful - and unlike almost every other Himalayan country the forests are still intact. In one day you can travel from sub-tropical jungle with monkeys and palms, to temperate hardwood forests, to wild rhododenron forests (with 30-metre-high trees), through spruce forests with wild daphne, to the snowline (at around 4,500 metres).
The politics are remarkable. The kings and queens of Bhutan are revered, especially the 4th king, Jigme Singye Wangchuck, who began a process of cautious modernisation. The first tourists arrived in 1974, TV was introduced in 1999 and much to the shock of his subjects, in the mid-2000s the king decreed the country would become a democracy and abdicated in favour of his son. Elections were held in 2008.
Remarkably, development is measured not in terms of Gross Domestic Product (GDP) like the rest of the world, but by an official government statistic known as Gross National Happiness (GNH) which measures such things as psychological wellbeing, time use and community vitality as well as more tangible western concepts like living standards, health and education.
There are similarities with other Himalayan countries, but as is often said, this is Shangri La. And people fall in love with Shangri La!
Richard Everist has been exploring the Himalayas since he first backpacked through Nepal in 1981. The author of numerous editions of Lonely Planet's 'Nepal - a travel survival kit' he has revisited the mountains many times. He has a strong interest in the cultures of the mountains, and particularly in the Buddhist cultures the mountains have fostered.
Around The Sun's itineraries include include Paro, Thimphu, Panukha, Bumthang and Phobjikha - and feature opportunities for walking, trekking, mountain biking, rafting, learning about Buddhism and bird watching. They all give a broad introduction to Bhutan and cover some of the best known highlights - alongside some of Richard's off-the-beaten-track gems.
If for any reason these itineraries don't meet your needs, or you have a special interest you want to pursue (wellness? textiles? rafting?) please contact us, because our brilliant operator will help us build something perfect for you. If you are interested in a private, or a custom trip to any part of Bhutan, contact Richard now.
Or start with the questionnaire on this website: Create Your Journey
Bhutan Journeys & Suggested Itineraries
Bhutan Adventure
Remarkable Bhutan is a completely unspoiled Himalayan kingdom. The Bhutan Adventure is a perfect introduction to Bhutan for reasonably fit and active people. It combines road touring, a two-night trek, and some rafting. There's a small group set departure in late 2015, but private groups (with comfortable and luxury options) can be run all year.
Days:
13
Luxury:
Comfortable / Trek / Camp
Type of Tour:
Small Group Guided Tour
Experience:
Car Touring / Trek / Raft
Challenge:
Medium
Cost:
from AUD$6399
more
Bhutan Introduction
This is the perfect way to discover Bhutan. It's a road-touring overview of all the most important sights. Most days involve at least one easy walk - to get you off the road, into the countryside and villages, meeting locals. There's always time to stop at markets or something interesting like an archery contest. Private groups can be run all year, and there are 'comfortable' and 'luxury' options.
Days:
9 days
Luxury:
comfortable / luxury
Type of Tour:
Private Guided Tour
Experience:
Car Touring / Walks / Culture / Nature
Challenge:
Easy
Cost:
from AUD$3999
more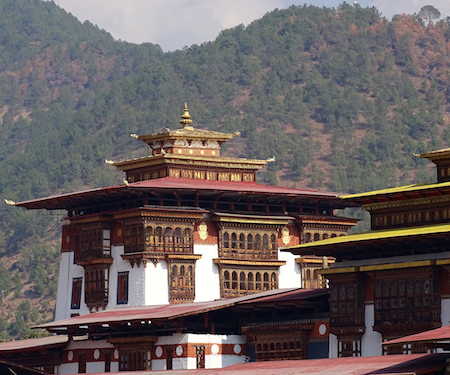 Jhomolhari Base Camp Trek
The Jhomolhari Trek is the most iconic trek in Bhutan. It's not easy, but the rewards are immense. There are fabulous views of one of the Himalaya's most spectacular peaks. And you experience amazing forests, including oaks, rhododendrons, birch, fir, pine, daphne, maple and larch. Blue sheep, and even snow leopards, live in the region and are sometimes spotted.
Days:
12
Luxury:
comfortable / luxury
Type of Tour:
trek
Experience:
trek
Challenge:
moderate / difficult
Cost:
from AUD$5299
more