School Trips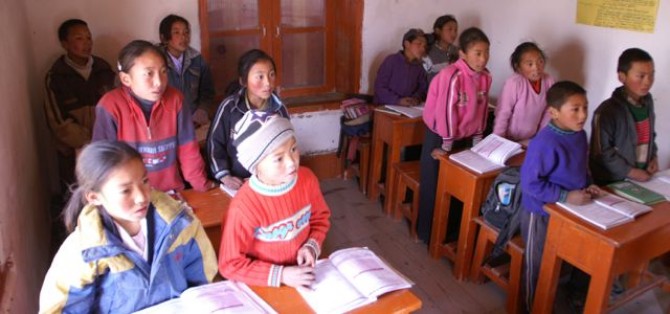 Around The Sun's educational journeys foster understanding, and help build self-esteem, resilience, teamwork and responsibility. Most importantly the trips are run to the highest standard of safety – and they're fun.
Partly thanks to our operators, Around The Sun has extraordinary connections with a large number of schools around the world. These schools range from elite private schools with manicured grounds matching anything you could find in Australia, to the Italian school Richard's and Lucrezia's children attended, to Nepalese village schools that are little more than windowless huts.
Connecting with local people is a crucial component of any successful and memorable trip – and connecting with your student and professional peers is a very good place to start.
Obviously visiting an elite school is a very different experience to visiting a village school, but both can make an important contribution to a student's travel experience. Particularly in countries where there is a massive disparity between rich and poor, the reality is that the elite schools are potentially educating the future leaders of the country, while the village schools might be struggling against great odds to educate the future leaders of small communities. Experiencing either, or both, will help shape students' understanding of the world, and their place in it.
Beyond interacting with local schools, Around The Sun can design a broad range of trips focusing on:
sport – including cricket in India, soccer in Spain and rowing in Italy
language – including homestays and school exchanges (Lucrezia is a trained language teacher who has taught in several European countries, as well as Australia)
adventure activities – including a purpose-built outdoor education camp in the foothills of the Indian Himalaya, trekking and rafting in Nepal, and kayaking in the Philippines
history and culture – including specialist guides with a deep understanding of their subject areas, who can interpret, explain and answer questions
art, craft and photography – including support from expert practitioners if required
making a direct contribution – including practical work in English classes, helping construct irrigation projects, and painting and renovating classrooms
Around The Sun believes that the preparation that occurs before a trip is as important as the trip itself. In order for there to be a successful, respectful and positive cross-cultural experiences, all travellers need background information on the history and culture of the country they are visiting. Background understanding will make the sights your students see more meaningful and enjoyable.
Lucrezia Migliore is an experienced teacher and Richard Everist is a former guidebook writer so, together, they are in an ideal position to help with pre-departure preparation, including, if required, helping to develop some basic lesson plans and didactic material (covering history, culture and basic travel practicalities).
Both Lucrezia and Richard are experienced presenters and they are also available to present pre-departure talks and slide shows.
For more information contact Richard and Lucrezia now.