Naples & the Amalfi Coast (Campania) Overview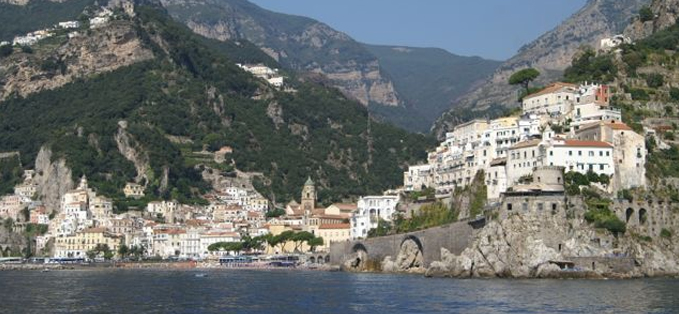 For all its problems, the south has glories that more than match those in the north. Tourism is less overwhelming in most parts, so the people are warm and welcoming – to match the weather, which from April to November is superb. Life, in general, is simultaneously more relaxed and more intense. Everything closes for the lunch siesta from 1 to 4 pm. But every bar and restaurant is full from 8 pm to midnight. The colours are brighter. The food is sensational, the people warm and hospitable.
There are many fascinating corners of Campania, but Around The Sun focuses on the region of Campania and in and around Napoli (Naples) the chaotic and extraordinary capital, built beneath Mt Vesuvius on the spectacular Bay of Naples.
Only a handful of cities can claim a location that comes close. Perhaps Rio De Janeiro, Sydney, San Francisco and Cape Town would be in the running, but none of them have a visible history stretching back 3000 years, none of them have Pompeii or Heraculeum, and none of them have anything to match the Isle of Capri or the Amalfi Coast.
Around The Sun also has a particular soft spot for the Cilento region, a lesser-known part of Campania that lies further to the south, beyond Salerno. In Paestum you find Greek ruins more intact than those in Greece itself and the coastline from Agropoli to Sapri, then on to Maratea (actually in Basilicata) is breathtaking, pristine, and largely undeveloped.
Naples, Pompeii, the Amalfi Coast and the Cilento Coast all feature in Italia with Lucrezia - History, Food & Wine. Our Italian operator is based on the Amalfi Coast, and Richard Everist and Lucrezia Migliore, plus two of their children, lived on the Cilento Coast for six months. So, needless to say, we know and love this part of Italy!
There is an enormous range of activities here, which we can cater to. From day walks to multi-day walking tours, from mountain bikes to motorbikes, from snorkelling to diving, from eating food to learning how to make it, from kayaking to luxury boats, from five-star lidos on Capri to empty, sandy beaches in the Cilento….
If you have any specific ideas about an itinerary you would like, or you would like Around The Sun to build a private, custom trip for you please contact us or Create Your Own Journey.
Italy Journeys & Suggested Itineraries
Amalfi Coast - Self Guided Walking Tour
This self-guided walking tour takes you through picturesque villages on ancient paths along the world's most dramatic coast. We carry your luggage and look after the logistics. Detailed maps and trail descriptions are provided, accommodation and breakfasts are included - as well as our brilliant local operator's recommendations for the best bars and restaurants.
Days:
8 days/7nights
Luxury:
medium to high
Type of Tour:
self-guided
Experience:
walking
Challenge:
Easy to Moderate
Cost:
more