Nepal Overview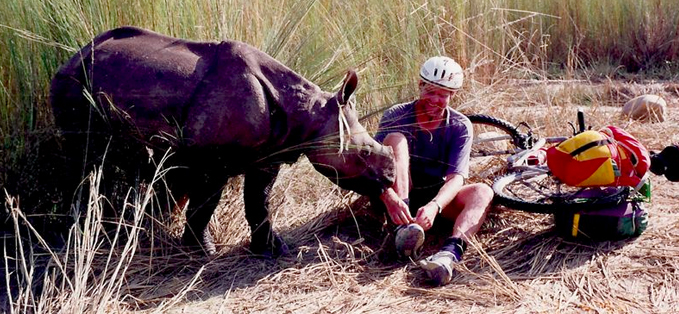 Nepal is only a small country, and it doesn't have a particularly large population - but it is bursting with exhilarating sights and sounds.
Travel in Nepal is so far outside the normal range of Western experiences that it can almost be hallucinatory. It's a shock to the senses. Your mind struggles to accept the reality of a tropical jungle with an eight-km high mountain range hanging behind it like a dream in the sky.
It is humbling to meet a Hindu holy man, trudging barefoot through a Himalayan snowstorm.
A 30-metre tall rhododendron, afire with pink flowers, against a backdrop of a five-km deep gorge takes your breath away.
It is a dream to sit in an 800-year-old Buddhist temple, while Tibetan monks chant their ancient prayers and their conch shell trumpets wail.
Sitting in bustling square of a Kathmandu Valley, Newar town, surrounded by pagodas, a jumble of sculptural and architectural masterpieces, and bustling market crowds takes you back in time...
Always there are the people. Nepal lies on the geological and cultural faultline between Tibet/China on one side and India on the other. There is no more vivid reminder of this than the religion of the Kathmandu Valley, which traditionally melded elements from Hinduism, Buddhism and even earlier polytheistic nature religions.
There are Tibetans, and Tibetan-related cultures. There are Indians, and Indian related cultures. And there are dozens of unique cultures and languages in between.
Somehow, however, there seems to be a unique Nepali sensibility that has survived the horrors of the civil war that, to this day, has not been fully resolved. There is a Nepali dignity, a self confidence, and a sense of humour that often allows genuine and positive interaction between visitors and locals.
The aggressive harassment by touts and beggars that is all too widespread in other parts of the Indian subcontinent is almost unknown in Nepal.
The range of experiences waiting for you in Nepal is beyond extraordinary – and Richard Everist, formerly the author of the Lonely Planet guide to Nepal and one of the founders of Around The Sun is uniquely well-placed to share them with you.
If none of our guided small group trips meet your needs, please contact us so we can develop a customised, private itinerary that will deliver you a perfect holiday. See Create Your Own Journey.
Nepal Journeys & Suggested Itineraries
Mustang & Tibetans
Mustang is a largely unchanged Tibetan/Nepali kingdom lying at the northern end of the world's deepest valley. The valley has, for thousands of years, been a link between Tibet (and China) and Nepal (and India). You'll meet Tibetan farmers, monks, refugees, nomads - and maybe even the King.
Days:
21
Luxury:
Pony / Trek / Camp
Type of Tour:
Small Group Guided Tour
Experience:
Pony Trek
Challenge:
Medium
Cost:
from $7000
more