Around The Sun Himalayan Journeys

Around The Sun is able to offer an extraordinary range of Himalayan trips – thanks to the extraordinary operators with whom we partner.
The ATS Himalayan trips range from old-style, fully-serviced trekking in Nepal with a team of sherpas, cooks and porters, to car-camping expeditions in Ladakh, luxury car touring in Bhutan, and hard-core expeditions in North-East India (Assam, Arunachal Pradesh, Nagaland).
Most of our itineraries can be run privately, or customised so the departure dates and itineraries completely suit you.
If none of our guided small group trips meet your needs, please contact us so we can develop a customised, private itinerary that will deliver you a perfect holiday. See Create Your Own Journey.
Mustang (Nepal)
Malla Treks' Stan Armington, the former author of Lonely Planet's Nepal Trekking guide, runs an old-fashioned pony and camping trek (with more staff than you would imagine possible!) to Mustang, one of the last untouched corners of the Tibetan Plateau – a veritable Shangri La.
Nepal
Himalayan Mountain Guides, with Mick Chapman and Nima Lama, is one of the most experienced and respected trekking and mountaineering operators in Nepal.
We have created a special ATS itinerary in the foothills of Mt Dhaulaghiri (at 8167 metres, or 26,795 feet, it's the seventh highest mountain in the world) but Himalayan Mountain Guides also organises treks to Everest and Annapurna, and climbing in many other parts of Nepal.
Bhutan
Bhutan is an expensive destination, but because of this it has avoided the pitfalls of mass tourism and offers the potential for trips with a high level of comfort, packed with fascinating cultural experiences.
Our trips are organised by Rventures, an Indian company with 25 years of experience.
Ladakh (India)
Thanks to its strategic location, wedged between China, Pakistan and India, Ladakh is a spectacular Buddhist enclave that has an excellent network of sealed roads – which ironically can quickly and comfortably take you off the beaten track.
Luxury car camping - glamping! - with all the work done for you, is organised by Rventures, an Indian company with 25 years of experience.
North-East India (including Assam, Arunachal Pradesh & Nagaland)
North East India is one of the most fascinating and undeveloped corners of the Himalaya. Tourists rarely visit, so travellers must be prepared for a genuine adventure expedition. This region is truly a cultural melting pot – wedged between Sikkim, Bhutan, Tibet, Burma and Bangladesh – and the scenery is spectacular.
Help Tourism is an outstanding operator with a strong commitment to assisting locals achieve positive developmental and environmental outcomes. Contact us if you'd like to see a customised, private itinerary or talk to Richard about the expedition he is planning see Create Your Own Journey.
Himalayan Journeys & Suggested Itineraries
Bhutan Adventure
Remarkable Bhutan is a completely unspoiled Himalayan kingdom. The Bhutan Adventure is a perfect introduction to Bhutan for reasonably fit and active people. It combines road touring, a two-night trek, and some rafting. There's a small group set departure in late 2015, but private groups (with comfortable and luxury options) can be run all year.
Days:
13
Luxury:
Comfortable / Trek / Camp
Type of Tour:
Small Group Guided Tour
Experience:
Car Touring / Trek / Raft
Challenge:
Medium
Cost:
from AUD$6399
more
Mustang & Tibetans
Mustang is a largely unchanged Tibetan/Nepali kingdom lying at the northern end of the world's deepest valley. The valley has, for thousands of years, been a link between Tibet (and China) and Nepal (and India). You'll meet Tibetan farmers, monks, refugees, nomads - and maybe even the King.
Days:
21
Luxury:
Pony / Trek / Camp
Type of Tour:
Small Group Guided Tour
Experience:
Pony Trek
Challenge:
Medium
Cost:
from $7000
more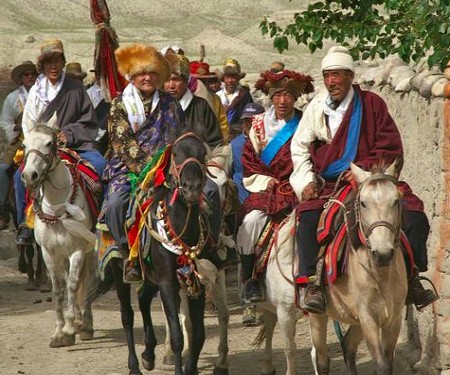 Bhutan Introduction
This is the perfect way to discover Bhutan. It's a road-touring overview of all the most important sights. Most days involve at least one easy walk - to get you off the road, into the countryside and villages, meeting locals. There's always time to stop at markets or something interesting like an archery contest. Private groups can be run all year, and there are 'comfortable' and 'luxury' options.
Days:
9 days
Luxury:
comfortable / luxury
Type of Tour:
Private Guided Tour
Experience:
Car Touring / Walks / Culture / Nature
Challenge:
Easy
Cost:
from AUD$3999
more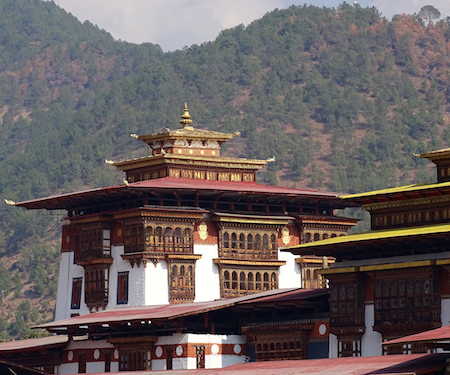 Jhomolhari Base Camp Trek
The Jhomolhari Trek is the most iconic trek in Bhutan. It's not easy, but the rewards are immense. There are fabulous views of one of the Himalaya's most spectacular peaks. And you experience amazing forests, including oaks, rhododendrons, birch, fir, pine, daphne, maple and larch. Blue sheep, and even snow leopards, live in the region and are sometimes spotted.
Days:
12
Luxury:
comfortable / luxury
Type of Tour:
trek
Experience:
trek
Challenge:
moderate / difficult
Cost:
from AUD$5299
more