Mustang Overview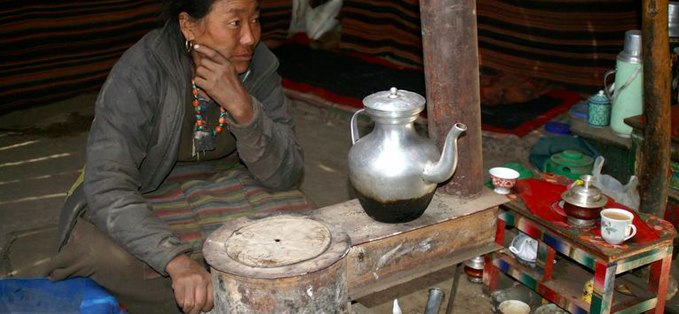 Nepal Update
Visitors on our incredible Mustang pony treks need only to transit briefly through Kathmandu. Pokhara and Upper Mustang, where we actually stay and trek, were virtually unaffected by the 2015 earthquake.
The sooner visitors start to return, the sooner our Nepali friends can start to rebuild their faith in the future. If you do any trekking this year, you will make a vital contribution in many ways.
Please contact us so we can explain in detail why we are confident the Mustang trip is not only as safe today as it ever was, but also extremely important. To start, check out our blog: Is it safe to visit Nepal?
Richard Everist & Lucrezia Migliore
Mustang Overview
Around The Sun's first trips were to Mustang. Suffice it to say that Stan Armington, a long time author of the Lonely Planet Nepal trekking guide, and Richard Everist, co-author of the Lonely Planet Nepal country guide, both consider that Mustang offers some of Nepal's finest, most unspoilt treks.
Mustang is a unique corner of Nepal, a genuine Shangri-La. Culturally and geographically a part of Tibet, Mustang has until relatively recently been closed to the world. Tourism is still strictly limited and controlled. (partly thanks to a US$50 per day fee).
Mustang is an unspoilt medieval, Buddhist world set amongst some of the world's most dramatic mountains, the world's deepest valley (the Kali Gandaki Gorge, five km deep, lying between the 8000 metre Annapurna and Dhaulagiri ranges), and a breathtakingly beautiful high altitude desert.
Around The Sun is the only company to offer pony treks in Mustang. Unique Tibetan ponies are provided to everyone as part of the ATS package, and they make life much easier on the ankle-twisting stones of the Kali Gandaki gorge, and on long climbs. The ponies are calm, sure-footed and beautifully trained. They're genuine Tibetan ponies, which take a central role in Tibetan culture and particularly the trading culture of Mustang. As motorised transport becomes more important, trips like ours will help sustain an ancient tradition.
The Kali Gandaki gorge has provided a link between Tibet (and China) and Nepal (and India) that has been used as a trading route for thousands of years. The fortified townships and villages that are strung along its length have benefitted from the wealth this trade generated, and there are numerous monasteries and temples.
In a number of places, the valley walls are honeycombed with cave complexes. Because of their inaccessibility many of the caves have lain untouched for millennia and are only now being explored by archaeologists using modern climbing gear. They are uncovering evidence of successive civilisations that have lived in the caves for 3000 years.
Mustang is home to Tibetan Buddhist ghompas (temples) dating back to the 12th century and some of the most spectacular Tibetan religious murals in the world. They are considered to be masterpieces, with global significance. The traditional capital of Mustang, Lo Manthang, is home to the King of Mustang. If he's in residence the king traditionally offers Around The Sun travellers a private audience.
Changes are coming fast to Mustang and the next couple of years provide the last window of opportunity to explore a relatively untouched corner of old Tibet
Mustang Journeys & Suggested Itineraries
Mustang & Tibetans
Mustang is a largely unchanged Tibetan/Nepali kingdom lying at the northern end of the world's deepest valley. The valley has, for thousands of years, been a link between Tibet (and China) and Nepal (and India). You'll meet Tibetan farmers, monks, refugees, nomads - and maybe even the King.
Days:
21
Luxury:
Pony / Trek / Camp
Type of Tour:
Small Group Guided Tour
Experience:
Pony Trek
Challenge:
Medium
Cost:
from $7000
more