Around The Sun Nepal Journeys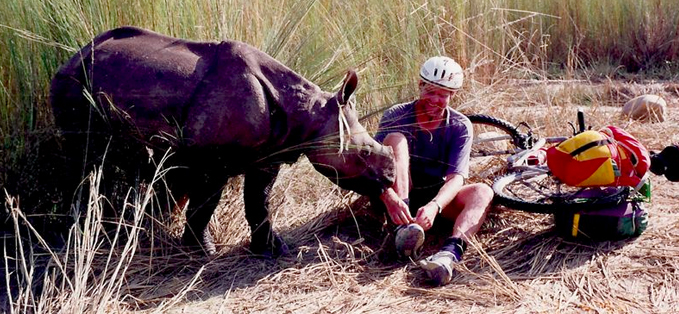 Nepal Update
Visitors on our incredible Mustang pony treks need only to transit briefly through Kathmandu. Pokhara and Upper Mustang, where we actually stay and trek, were virtually unaffected by the 2015 earthquake.
The sooner visitors start to return, the sooner our Nepali friends can start to rebuild their faith in the future. If you do any trekking this year, you will make a vital contribution in many ways.
Please contact us so we can explain in detail why we are confident the Mustang trip is not only as safe today as it ever was, but also extremely important. To start, check out our blog: Is it safe to visit Nepal?
Richard Everist & Lucrezia Migliore
Around The Sun Nepal Journeys
Around The Sun is able to offer an extraordinary range of Nepal trips – thanks to the extraordinary operators with whom we partner.
Most of our itineraries can be run privately, or customised so the departure dates and itineraries completely suit you.
If none of our guided small group trips meet your needs, please contact us so we can develop a customised, private itinerary that will deliver you a perfect holiday. See Create Your Own Journey.
The possibilities that might be incorporated in a private, customised journey include:
Rafting and canoeing from the mountains to the plains, through untouched gorges, and some of the most exciting white water on the planet
Luxury trips utilising a new breed of luxury mountain lodges, and plane and helicopter sightseeing
Taking meditation courses in thriving Buddhist monasteries
Exploring the remarkable architectural, artistic and religious heritage of the Kathmandu valley
Trekking through spectacular scenery and experiencing farming societies that are little changed, where the internal combustion engine is yet to reach
Elephant-back safaris in search of rhinos and tigers, based in luxury lodges and tented camps
Trekking
Around The Sun steers clear of the iconic, but extremely crowded, Everest Base Camp and Annapurna Circuit walks. Both these walks can now be undertaken by individual backpackers hiking between well-established tea-houses designed to meet western 'needs'. Although the views are still great, the lack of cultural authenticity and the crowds are not.
There are increasing numbers of luxury lodges in Nepal, but on the whole Around The Sun strongly believes the best Nepal experiences are based around tent-based treks. These old-style expeditions take you off the beaten track and give you the opportunity to get to know the staff who are looking after you – and to interact with the villages and people you meet along the way.
Some westerners are uncomfortable with the notion of having a team of people dedicated to looking after them – but properly paid work on a trekking team is considered a high status job in Nepal – and the wages are more than welcome in a country that has enormous unemployment issues. Travelling with a team of competent, interesting, joyful Nepalis is a great experience in its own right. And that's before you start thinking about the amazing places they take you to.
Obviously a certain amount of comfort is sacrificed in order to get off the beaten track – even with full-service treks - but ATS trekking crews make sure everyone is as safe, comfortable and well fed as is humanly possible. It is certainly a very different experience to camping as most westerners have experienced it.
Mustang (Nepal)
Malla Treks' Stan Armington, the former author of Lonely Planet's Nepal Trekking guide, runs an old-fashioned pony and camping trek (with more staff than you would imagine possible!) to Mustang, one of the last untouched corners of the Tibetan Plateau – a veritable Shangri La.
Dhaulagiri (Nepal)
Himalayan Mountain Guides, with Mick Chapman and Nima Lama, is one of the most experienced and respected trekking and mountaineering operators in Nepal.
Itineraries coming. Sign up for the Around The Sun newsletter, or make Around The Sun Travel your friend on Facebook to ensure you hear of new comfortable adventures as they become available.
Nepal Journeys & Suggested Itineraries
Mustang & Tibetans
Mustang is a largely unchanged Tibetan/Nepali kingdom lying at the northern end of the world's deepest valley. The valley has, for thousands of years, been a link between Tibet (and China) and Nepal (and India). You'll meet Tibetan farmers, monks, refugees, nomads - and maybe even the King.
Days:
21
Luxury:
Pony / Trek / Camp
Type of Tour:
Small Group Guided Tour
Experience:
Pony Trek
Challenge:
Medium
Cost:
from $7000
more