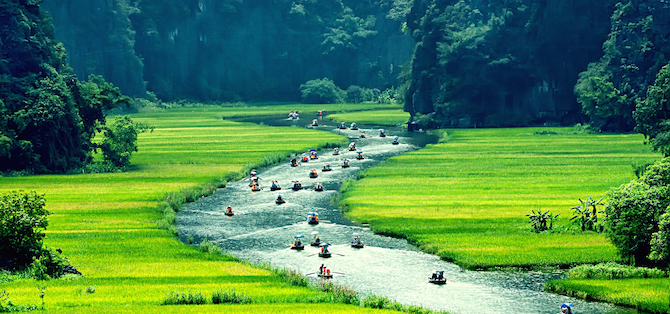 Around The Sun focuses on Thailand, Cambodia, Laos, Vietnam and Indonesia, where we can offer a broad range of private, customised and small group trips. And we have one brilliant kayaking trip in the Philippines.
There's no doubting that savvy South-East Asians have become experts at delivering what westerners want at prices they can afford: warm weather, picture-postcard beaches, cheap but comfortable accommodation, surf, coral reefs, great (more-or-less westernised) food, cold beer, good shopping, massages and tattoos.
Fortunately, it is still possible to get off the beaten track to experience parts of South-East Asia that are unspoiled by the negative aspects of the last 50 years of development. Shimmering paddy fields are still tilled by hand… Orange-clad monks still file down dusty village streets with their begging bowls… Gamelan orchestras still make the warm evening air vibrate…
Around The Sun has puzzled long and hard about how to develop trips to South-East Asia – given millions of visitors seem to be doing just fine without us! And the truth is that if what you want is a bargain beach holiday you really don't need us. But two things pushed us to keep thinking... First, we want good excuses to be able to regularly visit some of our favourite countries and, second, we are convinced there are people out there that want more than a cheap beach holiday.
Fortunately the answers to our quandary came thick and fast when we started working with our brilliant ground operator. No-one knows more than they do about South-East Asia – its highways, but especially its byways. We love working together because there company and ours are passionate about giving travellers experiences they could not otherwise have – passionate about connecting with local people – and passionate about making a positive difference.
And there is a lot more to South-East Asia than beautiful islands. Don't get us wrong: we LOVE bargain beach holidays, but we also LOVE travelling and experiencing new things. For us it's not an either/or question. We want it all!
If you want, Around The Sun can show you some absolutely brilliant small hotels and villas on the coast – we'll call that the entree – but our main mission is to introduce you to some of the most amazing cultures, places and experiences on the planet – we'll call that the main course – before giving you a couple of final days of chillax – we'll call that dessert!
Of course there are a million different ways you can mix and match entrees, main courses and desserts. Talk to us so that we can design a menu that meets your needs. Maybe you can start with a beach, then travel, then enjoy a couple of days shopping… These are NOT either/or options! You can have it all!
Around The Sun's signature trips bring together these ingredients:
meeting locals – whether they be families, monks, chefs, artists fishermen, musicians…
interacting with fascinating cultures (that still have much to offer to the West)
exploing great culinary traditions
understanding the wisdom of ancient religions
exploring some of the mind-blowing ruins left behind by great civilisations
witnessing some of the wonders of the natural world
pampering with spas and yoga retreats
tracking down great arts and crafts – from carvings to textiles to paintings…
introducing amazing activities – from kayaking to ballooning to diving and snorkelling…
We're working on some great small group, guided itineraries for South-East Asia - right now. But our brilliant operator is set-up, and ready and raring to go.
So if you are interested in a private, custom trip to any part of Thailand, Vietnam, Laos or Cambodia, contact us now.
Or start with the questionnaire on this website: Create Your Journey
ATS South-East Asian Journeys
Paddling Palawan
The Paddling Palawan trips are the best possible way to explore the world's most beautiful islands. Explore remote beaches, snorkel in hidden lagoons, island-hop across crystal clear waters... All the trips are accompanied by Tim Altman, a champion paddler, and a safety boat (actually a traditional fishing boat). You can choose to paddle, or catch a ride on the boat, whenever you like.
Days:
8
Luxury:
budget / luxury / top-end
Type of Tour:
Expert Leader / Special Interest Tours
Experience:
Ocean Paddling & Kayaking
Challenge:
Medium
Cost:
from AUD$3790
more