The Shipwreck Coast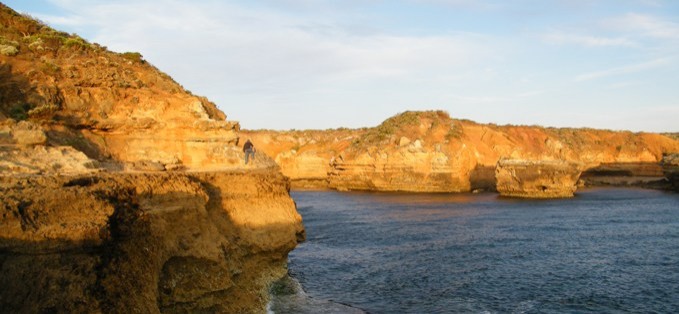 The Shipwreck Coast is aptly named with more than 200 ships known to have wrecked along the 180 kilometres of coast between Moonlight Head (just east of Princetown) and Port Fairy. Many of the shipwrecks occurred during the mid-19th century when immigrants from Europe and America joined the gold-rush and as coastal trade increased between Melbourne and towns such as Warrnambool and Port Fairy.
The harder grey sandstone and the forest cloaked hills of the Otway Ranges have given way to the softer red sedimentary cliffs and wind-blasted heath and dairy farms. The wild weather common to this coast contributed to the many shipwrecks and created the extraordinary sea-sculpted cliffs, arches and stacks, most famously the Twelve Apostles, which attract millions of visitors each year.
The Great Ocean Road emerges from the Otway Ranges and meets the coast at Princetown, overlooking the broad estuary of the beautiful Gellibrand River, where you can fish, canoe and swim. Ideally located on the border between the Great Otway and Port Campbell National Parks, accommodation options include campgrounds, and budget accommodation. There is a general store/café and a tavern.
Six kilometers west are the iconic Twelve Apostles and nearby other features of this dramatic coastline, including Gibsons Steps (providing access to Clifton Beach) and Loch Ard Gorge, the site of famous shipwreck in 1878.
Further west, Port Campbell is a small town, sheltering in a gorge at the mouth of Campbells Creek, below the windswept clifftops to the east and west. The gorge provides the only (more-or-less) safe anchorage between Warrnambool and Apollo Bay, so the town played an important role in coastal shipping and fishing. The beach in the gorge is also particularly safe. The town is now a busy tourist centre and the main street is lined with restaurants and motels. Other accommodation options include self-catering cottages, farm stays, backpackers, and a caravan park.
Peterborough, lying at the mouth of the broad Curdies River estuary, is home to multitudes of water birds, including large numbers of black swan. There's a sandy beach backed by dunes to the east of the river mouth (part of the Port Campbell National Park), and the Bay of Islands Coastal Park to the west. While less well known than its spectacular neighbour to the east, it is still very dramatic, with many island stacks and a ragged limestone coastline. The crowds are smaller and it's possible to find sheltered beaches. There's a general store, a few self-catering accommodation options and a caravan park. It's quiet. And it's a great base for exploring the coastline, east and west, or fishing offshore or in the estuary.
Just past Peterborough, the Great Ocean Road heads inland meandering through rich dairy farming country until it reaches Allansford, the official end of the Great Ocean Road, just east of Warrnambool and home to one of the few remaining cheese and butter factories in the region.
Warrnambool is a thriving regional centre with a dramatic location, built on a plateau behind a steep bluff overlooking sheltered Lady Bay (where there are 29 known shipwrecks) and defined by the Merri River to the west and the Hopkins River to the east of the city. The first permanent settlers were graziers, and a township began to emerge in the 1840s as an outlet for the agricultural produce (wool, wheat, potatoes, and onions) of the rich hinterland. Warrnambool has continued to grow steadily with a healthy mixture of industry (especially dairy processing, woolen mills and clothes factories), services (especially schools and hospitals) and tourism.
Warrnambool has retained some attractive 19th century architecture, including some fine churches and a highly ornamented Victorian boathouse. It has a vibrant shopping precinct, with some particularly good clothes shops, perhaps as a legacy of the town's connection to Fletcher Jones. There is a good selection of interesting restaurants and cafés, and the arts precinct, includes an excellent regional gallery. There is a range of accommodation options including a resort-style hotel, motels, self-catering apartments, B&Bs, backpackers, and caravan parks with cabins.
Flagstaff Hill Maritime Village is a fascinating recreation of a 1870s coastal port with more than 40 buildings and ships. The museum includes treasures that have been rescued from shipwrecks that occurred along the coastline between Warrnambool and Cape Otway.
Fletcher Jones Gardens surround the former clothing factory founded by David Fletcher Jones in Warrnambool in 1948. The colourful gardens were established after Fletcher Jones asked. 'Why should a factory look like a factory?'
To the east of the Hopkins River, at Logans Beach, a specially-constructed platform overlooks a whale nursery used every year between June and September by female southern right whales and their calves.
The coastline west of Warrnambool to Port Fairy is low, with a line of sandunes, backed by shallow lakes and wetlands, then rich volcanic soil. The beach can be accessed at Killarney, where there's a camping ground, and some reef-protected beaches, great for fishing.
Tower Hill, 14 km west of Warrnambool on the Princes Hwy, is one of the most fascinating geological formations in Victoria. It has a volcanic crater rimmed by beds of volcanic ash. The floor of the crater contains conical hills of red and black scoria, which after good rains is surrounded by a shallow lake. The volcano is believed to have erupted 32,000 years ago, and was an important site for the Koroit Gundidj people. There is an unusual visitor centre run by the Worn Gundidj Aboriginal Cooperative, where you can purchase Aboriginal crafts or arrange a walking tour with an Aboriginal guide.
Koroit lies on the sheltered northern slopes immediately behind Tower Hill, and there are a couple of cafés in the main street, which is dominated by striking 19th century architecture. Irish labourers (refugees from the 1840s famine) were brought to work the rich volcanic soil and potatoes soon became the major crop. Koroit reflects the strong Irish influence between Warrnambool and Port Fairy.
Port Fairy, or Belfast as it was originally known, was one of the busiest ports in colonial Victoria. It is now a charming coastal town, with wide streets of bluestone cottages and verandahs, sheltering beneath grand old Norfolk Island pines. It became a backwater when its role as a port declined, but it has for a long time been a quietly popular holiday resort with its long safe stretch of sand at East Beach, and some excellent surf breaks. There is excellent fishing, both in the river, off the beach and rocks, and further out to sea.
The sheltered River Moyne gives anchorage to fishing and pleasure craft, charter boats and the remnant of what was a major fishing fleet. 19th century buildings and structures associated with maritime activities are retained on either side of the Moyne River, including extensive bluestone walls along the river's edge and out to sea past Griffiths Island, where 15,000 short-tailed shearwaters, or mutton-birds arrive in late-September, after an amazing migratory flight and stay until mid-April.
There are literally dozens of accommodation options, often in heritage buildings, from luxurious small hotels to a youth hostel and camping grounds. There is a huge range of places to eat; Port Fairy is a gourmet destination.
Inland from the Shipwreck Coast you drive through lush farmlands that produce beef, wool, potatoes, grains and dairy products for Australia and the world. See cows being milked, alpacas grazing alongside sheep, and buffalos being raised for cheese production. Further inland, explore extinct volcanoes that have shaped the landscape with craters, lakes, ragged, wavelike lava flows and vast basalt plains.
To the north of Princetown, Simpson and Cobden were settled in the 1960s as part of the 50,000 hectare Heytesbury Settlement – the last Government-sponsored, wholesale clearing of extensive areas of native forest for agricultural settlement in Victoria. It is now one of the most productive dairying centres in Australia. You can visit the Heytesbury Settlement Historical Park in the centre of Simpson or taste and buy local cheeses and visit a winery nearby. Simpson has a caravan park and hotel/motel. Cobden is regarded as the "Dairy Capital of the World" and the major industries of the town are processing milk and servicing the dairy farms. Cobden has a hotel, restaurant, caravan park and other accommodation.
To the north of Port Campbell, Timboon is an attractive, bustling little town sheltered in a green-treed valley. Once at the end of a railway line, Timboon was a centre for timber milling, and it is still an important dairy production centre. It is famous for high-quality cheese, chocolate and ice cream, among other special regional delights, like berries, wine, and whisky.
Further north still, Camperdown was first settled in 1839 by the Manifold brothers, who took up a 100,000-acre run in 1839 on Lake Purrumbete. The Manifold family was a major benefactor in the town, funding many public buildings and the town's fine clock tower. Many of these unique historic buildings, wide streets and parks dating from the mid-1800s have been preserved as has Purrumbete Homestead. The location at the foot of Mount Leura and Mount Sugarloaf provides a wonderful backdrop for the township. The two mounts and nearby lakes are part of a much larger volcanic complex resulting from eruptions more than 10,000 years ago. Walks to the summit of both Mt Leura and Mt Sugarloaf provide spectacular views of the surrounding district, including many of the other cones and craters of the basalt plain.
For accommodation or meals in Camperdown, you can try one of the historic hotels or apartments at a converted mill or the luxury accommodation at Purrumbete Homestead. There are also several motels, B&Bs and cottages and a caravan park in town and a camping reserve at nearby Lake Purrumbete.
Like Camperdown, Terang, further west, was settled in the 1840s. As the town grew and prospered at the turn of the century, many magnificent buildings were created along the tree lined avenues. Terang is known as the National Trust town of historic trees. A walking tour of the township takes you to many of the remaining historic buildings on tree-lined streets. Today, Terang is an attractive, medium-sized rural centre which serves an irrigated farming, dairying and pastoral district. It has a number of hotels, motels and cottages and a caravan park.
Noorat is a small rural village, north of Terang at the foot of Mt Noorat, Australia's largest dry volcanic crater. Mt Noorat was a traditional meeting and trading place for Aboriginal clans from as far away as Geelong, Portland and the Wimmera, who exchanged stones, spears, skins and other material. Settled with sheep and cattle runs from the 1840s, rabbits became a pest in the area in the 1860s. Many of the dry stone walls erected to keep them out of paddocks still remain around the district. Noorat is the birthplace of Alan Marshall, the much-loved Australian author best known for the story of his childhood battle with polio - "I Can Jump Puddles".
To the north of Port Fairy are the small villages of Macarthur and Penshurst. Both were established in the 1850s as the surrounding land was taken up as pastoral leases. Many 19th century buildings remain in both towns and nearby homesteads.
Macarthur is the gateway to Mount Eccles National Park which is centred on an extinct volcano and includes interesting geological features such as crater lakes, lava canals, collapsed tunnels, scoria cones and stony rises. Manna Gum and Blackwood forests thrive in the area providing habitat for a wide variety of wildlife. There are walking tracks, picnic areas, campsites and great swimming spots. North of Macarthur you can visit interesting volcanic features at Mount Napier State Park and the Byaduk Caves.
Today Penshurst is the centre of a large dairying, agricultural and pastoral district. It has a hotel, restaurant, a caravan park and other accommodation. Visit the Penshurst Volcanoes Discovery Centre for a detailed understanding of the volcanic eruptions and lava flows of the region.
Along the Shipwreck Coast there are great opportunities to experience a natural environment with abundant native birdlife and rare native animals. The rocks and caves of the coast are home to seals, penguins, bats and a host of bird life. Some colonies and nesting areas are protected, but visitors can see penguins up close on Warrnambool's Middle Island, spot seals diving from the rocks of Lady Julia Percy Island, and watch shearwaters (or 'mutton-birds') returning to their nests on Port Fairy's Griffiths Island. River estuaries such as the Gellibrand and Curdies are home to multitudes of water birds, including black swans and the flats around the estuaries can be alive with fauna, including kangaroos, wallabies and echidnas. Whales can be spotted along the coast between May and September, and female southern right whales can be observed mothering their newborn calves from the viewing platforms at Logan's Beach in Warrnambool. Wildlife is prolific throughout the hinterland, with kangaroos and emus plentiful at Tower Hill and koalas thriving in the Manna gum woodlands at Mt Eccles.
Shipwreck Coast Overview
Great Ocean Road & Otways Waterfalls
Touring the Great Ocean Road between Torquay and Lavers Hill you will experience breathtaking coastal views, visit idyllic beaches and venture into the Otway Ranges where scenic waterfalls tumble into fern-filled gullies in some of the remnants of the ancient Gondwanaland rainforest. While you're taking in the sights and sounds you'll learn about the Indigenous and early European histories of the region and observe native wildlife.
Days:
2
Luxury:
**** Four Star
Type of Tour:
Small Group Guided Tour
Experience:
Car Touring / Nature
Challenge:
Easy
Cost:
From $747
more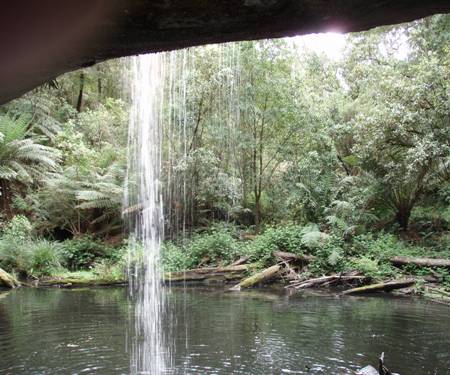 Great Ocean Road & 12 Apostles
On this small group tour of the Great Ocean Road between Torquay and the Twelve Apostles you will experience breathtaking coastal views, visit idyllic beaches, shipwrecks, towering ocean cliffs and unique sandstone formations as well as venture into Gondwanaland rainforest gullies with eucalypts towering overhead in the Otway Ranges. While you're taking in the sights and sounds you'll learn about the Indigenous and early European history of the region and observe native wildlife.
Days:
2
Luxury:
**** Four Star
Type of Tour:
Small Group Guided Tour
Experience:
Car Touring / Nature
Challenge:
Easy
Cost:
From $747
more
Surf Coast Tour
Touring the Great Ocean Road between Torquay and Kennett River you will experience breathtaking coastal views, visit idyllic beaches and venture into the surrounding forests where scenic waterfalls tumble into fern-filled gullies. While you're taking in the sights and sounds, you'll learn about the Indigenous and early European histories of the region and observe native wildlife.
Days:
1
Luxury:
**** Four Star
Type of Tour:
Small Group Guided Tour
Experience:
Car Touring / Nature
Challenge:
Easy
Cost:
From $250
more