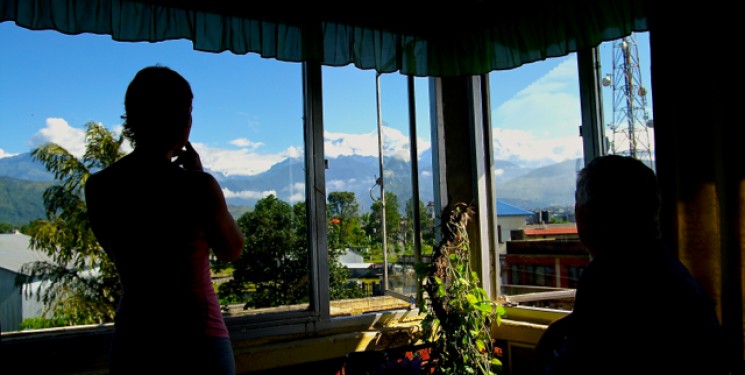 In September 2011, I embarked on a 20-day expedition through Upper Mustang to Lo Manthang, a northern Nepalese town in an untouched corner of the Tibetan plateau. Around The Sun gathered together 5 guests (of which I was one), 3 guides, a monk and a crew of 19 Nepalis, 9 ponies and 7 mules. Every day we rose with the sun, packed up the campsite, breakfasted and headed into the desert. We climbed monstrous mountains, traversed crystal streams and bonded with our steadfast ponies. We had tea with nomads and the King of Mustang. We visited monasteries and remote primary schools, had sittings with Monks and collected 65 million-year-old shell fossils from riverbeds.
Yaks, goats, prayer wheels and flags were our totems and the playful crew, our wise and generous guides, the animals under their care and ourselves, quickly became an integrated community: self-sufficient and mobile.
As the days progressed, the spectacular immensity of the raw and ancient landscape enveloped my urbanized being and melted away my contemporary concerns. The trek became a physical, emotional and spiritual meditation that opened me up and allowed me to find pleasure in every moment.
Stan, Richard and Tenzin 's understanding of the landscape, history, politics and religion of the region was a gift. I felt privileged to be given such insight into the Tibetan culture and welcomed by the warm hospitality of everyone we met. The organization of the campsite, cooking of meals and the daily movements of such a large convoy was faultless. It was efficient, yet flexible, intimate and sensitive to the environment and us.
I loved every moment of it.
Around The Sun created an extraordinary adventure to a land beyond time and it stayed with me in a strongly visceral sense long after my return to Australia.
Tanya
Melbourne, Australia